Glass parts and micro scanner: 3D printer for glass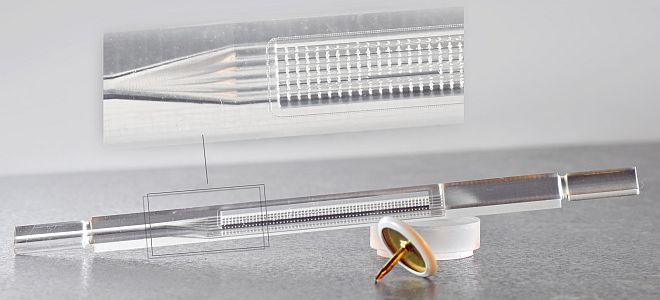 The fast 3D Printer for glass is based on our Microscanner, which enables high-speed 3D motion of the 1 µm laser focus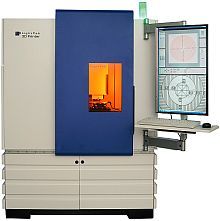 With our LightFab 3D Printer you can produce your 3D precision parts in quartz glass or micro structures in other transparent materials. We offer the standard versions "Scientific" (120 x 80 mm) and "Manufacturing" (200 x 200 mm) as well as special machines designed for your process or optimized for mass-production of your 3D structure.
Our Microscanners are 3D beam deflectors for digital laser-based production with micrometer focus. Our offer covers flexible 3D Microscanners for the production of all sorts of prototypes and small batch series as well as High-speed Microscanners, optimized for mass production of a glass part with high throughput.
We integrate the Microscanner with a suitable ultra-fast laser and 3 axes into your production line. In addition we support you in process development, new materials as well as high throughput.
More about our 3D Printer for glass ...
Information about our 3D Microscanners for integration or mass-production ...
We enable digital production of complex, transparent precision parts by laser technology.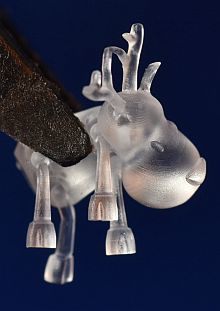 Complex, transparent components can be fabricated with the new laser production process in-volume selective laser-induced etching (ISLE)
Digital printing directly from 3D-CAD data is possible by means of ISLE.
We offer you the production of glass micro-parts spanning from prototypes, small and large lot sizes or enable you to produce the parts on your own using our micro scanners.

Our offer comprises the production of micro-machined, complex glass parts e.g for medical diagnosis, pecision mechanics and optics as prototype or in mass production
Further information about 3D glass precision parts...
More about 3D microfluidics in quartz glass...
Best precision and design freedom enabled by 3D printing of glass